FLAVIKER | pioneering porcelain stoneware
FLAVIKER | combining aesthetic excellence and technological innovation

FLAVIKER | providing a high performance product
FLAVIKER | modern and avant-garde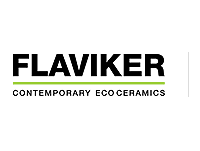 About FLAVIKER
Rooted in history, a vision on the future
Flaviker, a historic Italian ceramic tile brand set up in the Emilia region in the late 1960s, produces indoor and outdoor full-body porcelain tiles for architectural applications. Following its acquisition by ABK GROUP in 2007, it changed direction and focused in particular on design and technological innovation. Flaviker combines contemporary characteristics with a sophisticated and minimalist aesthetic while remaining constantly attentive to the latest trends.
A world-famous Italian ceramic producer, Flaviker is renowned for its quality, innovation, eco-sustainability and constantly evolving style. It specialises in contemporary porcelain surfaces, delivering high-performance products with cutting-edge aesthetics and technology in a constantly expanding range of sizes and finishes. Drawing from multiple inspirations, the sheer breadth of its range makes it particularly suitable for complete residential and public projects. Its architectural surfaces reproduce an array of different materials including concrete, stone, marble and plain colours and are ideal for use both as individual wall coverings and as mix-and-match solutions for a total crossover effect. Each individual collection becomes a highly versatile tool in the hands of an architect, bringing a distinctive look to residential projects and public and commercial spaces. Utilising the manufacturing expertise acquired throughout its history, Flaviker combines aesthetic excellence with technological innovation to offer sizes ranging from large tiles to flexible ceramic planks and extra-thick slabs for outdoor use.
Technology
Through its steady technological advances, Flaviker strives to constantly improve the technical performance of full-body porcelain and ceramic, with a special focus on functionality and ease of application. Flaviker offers innovative solutions for the world of architectural design and installation of indoor and outdoor tiles.
ECO-SUSTAINABILITY
A Flaviker ceramic tile installation stands out for its design and for the renowned quality of Italian-made products manufactured in accordance with the strictest environmental standards. Flaviker promotes sustainable building and is a member of Green Building Council Italia, the Italian association of leading companies committed to environmental sustainability in the building market. GBC Italia members promote environmental, economic and social responsibility through practical contributions to innovation, in the way that buildings are designed, built and used.