Lapitec® | Ease of processing
Lapitec® | The perfect choice for kitchen worktops
Lapitec® | The perfect cladding solution
Lapitec® | The perfect cladding solution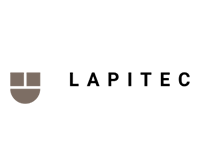 About Lapitec®
THE PRODUCT THE ARCHITECTURAL WORLD WAS LOOKING FOR.
Research and development, exceptional technology and know-how, quality and design, modern appeal combined with a traditional feel, superb and unsurpassed features: these are the cornerstones on which Lapitec has built not only its "mission" but also and the world's first production site for the manufacturing of Lapitec®.
THE PERFECT CHOICE FOR KITCHEN TABLES
The perfect example of Italian style
THE PRODUCT THE ARCHITECTURAL WORLD WAS LOOKING FOR
The technical and technological partnership with Breton SpA (a world leader in the production of machines and equipment for processing stone and natural technical stone products, which has developed both exclusive technology and production facilities) allowed us to create a ceramic-based product with unsurpassed technical properties and an eye-catching design.
Pollution in cities is not only a health risk, but also has a detrimental effect on buildings, monuments and infrastructure. The main cause of damage to buildings is the accumulation of organic matter that is deposited on the surface.
Biotech is a Lapitec® series, designed and developed to decompose and wash away organic particles from the atmosphere that are deposited on the surface, and also has a bactericidal effect.
To achieve this result, a special form of titanium dioxide (TiO2) is included in the production of the Bio-Care series.
Lapitec® | Bio-Care technology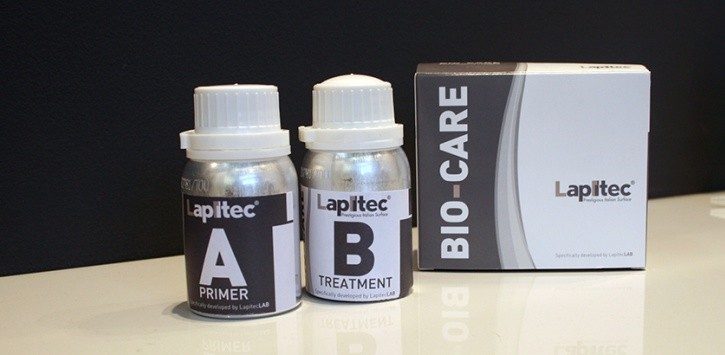 Lapitec® | Bio-Care technology
Titanium dioxide is a catalyst that decomposes organic matter by oxidation, thanks to a reaction with natural sunlight or artificial lighting (photocatalysis).
Titanium dioxide also gives Lapitec® ultra-hydrophilic properties, enhancing the washing effect to remove contaminants from the surface. This important feature allows us to define Lapitec® Biotech series surfaces as "self-cleaning".
Research has also shown how the powerful oxidizing properties of titanium dioxide destroy bacteria (such as Escherichia coli and staphylococci) and molds, fungi and microorganisms, reducing odors.
The Bio-Care series is the ideal choice for places where you need to ensure a high degree of cleanliness and hygiene, with anti-pollution and self-cleaning properties.
Green vision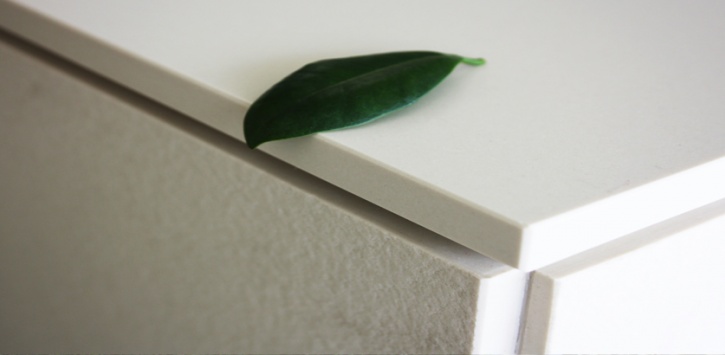 Today, more than ever, architecture is designed around and for the environment, and this is the driving force throughout the Lapitec® project, which is produced in an environment that protects the environment and human health. Production is sustainable without harming our planet, with future generations in mind.
Lapitec® is an end-to-end green product: from production to processing, transformation and end product. Lapitec® does not contain any oil-based raw material.
Lapitec® is completely inert and does not emit any substances into the environment. When discarded, it is ground to be recycled as an aggregate, or it can simply be disposed of in any waste treatment plant that treats inert waste.
Lapitec®, when used for cladding ventilated facades, offers better thermal insulation compared to other cladding products on the market.
Lapitec S.p.A, in accordance with an environmentally sustainable "green" policy, we have decided to use renewable energy sources for production. In fact, photovoltaic panels have been installed on the roofs of 18,000 m2 of building stock.