SapienStone | от ултрамодерен до по-класически и традиционен стил
SapienStone | пълна гама от цветове
SapienStone | вграден индукционен котлон TPB tech®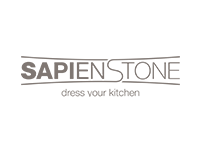 About SapienStone
SapienStone is a new brand owned by the holding company Iris Ceramica Group S.p.A., a world leader in the production of top quality porcelain and high-tech ceramics for more than 50 years, serving more than 100 countries with a vast range of solutions for covering walls and floors: from the contract industry to wellness, hospitality, residential projects and large-scale public works projects responding to all the requirements of construction and living.
With cutting-edge production technology in 9 industrial plants in Europe and the United States, advanced logistics and a constant focus on the environment, the Group has always been a leader in the sector on an international scale.
The USA factory is based in the Smokey Mountains of Tennessee, in a small town called Crossville. This state-of-the-art facility has approximately 700,000 square feet of production space, with an attached learning center for continuing education on luxury porcelain slab installation.
SapienStone is naturally resistant to high temperatures. Unlike wood, laminate and quartz products, SapienStone will not ignite in the event of a fire and will not suffer thermal damage if you place a hot coffee maker or pan on it. SapienStone tiles can also be used outdoors, as sunlight does not change any of its characteristics.
What is SapienStone?
SapienStone is the first brand of porcelain slab countertop surfaces specifically designed for use in homes, restaurants, and offices.
SapienStone's slabs are crafted from ceramic clays and mineral colourings – and thanks to this unique manufacturing process, these slabs will not be altered by heat, light, or chemical cleaners and disinfectant products.
SapienStone dresses up your space with a complete range of colours and finishes to create an exclusive, dynamic look. This range includes products that cater to a variety of tastes, from the ultra-modern to the more classic and traditional style. All products are full body with marble veining, guaranteeing the perfect polished look in the home or in the office.
SapienStone can also be used as a bathroom countertop, or as tabletop for either indoor or outdoor use. The advanced technical performance of our product permits applications to both floors and walls. Use the same colour on each surface for a polished and integrated look, or combine different colours in our range for something a little bolder. The choice is truly yours.
SapienStone is available in StoneCenterGroup stores. When choosing a custom countertop, it is recommended that you have a certified representative who professionally takes the dimensions and manufactures the product to ensure your satisfaction.
Kitchnen tops SapienStone
Kitchen countertops serve two basic purposes: the purpose of design- the achievement of the perfect look, and more practical purposes, such as food prep and other daily use. SapienStone's high-quality products are able to serve both functions simultaneously.
From the design point of view, our colour palette allows the product to be matched with any kind of furnishings and accessories. A number of colours are available in either natural or polished finishes to complete and compliment your design.
From the practical point of view, our product is a hygienic, non-absorbent surface which allows the countertop to be in direct contact with food.
Our product is also naturally resistant to thermal shock, so hot pots and pans can be safely placed on the work surface.
Induction Cooker TPB tech®
Benefits
TPB TECH® THE MOST REVOLUTIONARY TECHNOLOGY
LATEST GENERATION INDUCTION ELEMENTS
RESISTANCE TO HEAT
RESISTANCE TO SCRATCHES
Catalogues
The SapienStone catalog contains all the information you may need about the colors and finishes, as well as photos of the product and its possible applications.
The catalog also contains technical and product maintenance information.