Quarella | Unique colors

Quarella | Wide application
Quarella | Countertops and cladding
Quarella | Bathroom with Marble vanity top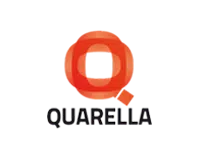 About Quarella
Quarella, a world leader in the production of marble, granite and quartz composite surfaces. Currently, the Quarella Group in Verona is a world leader in the field of composite stone materials.
For more than 40 years, Quarella has been offering a wide range of colors and finishes. The company's staff numbers 400 employees, distributed in five state-of-the-art production facilities and two research and development laboratories. The annual production capacity is about 4 million square meters, which are sold in all countries around the world.
Quarella has set up its own research and design center, which works in close synergy with the sales and production departments. This preserves for Quarella the constant position of a company defining technological and aesthetic trends.
Thanks to the emotion and enthusiasm invested in the products, as well as due to the constant search for innovative ideas, the Quarella group has reached the highest level in all sectors both in Italy and abroad.
Quarella
QZero technology
With QZero Quarella have perfected an innovative production process that increases the environmental compatibility of their products.
The innovative part occurs during the aging process, when the block hardens and the resin is placed in a grid or mesh. With the few products that use traditional methods, crosslinking may be incomplete, leading to the release of potentially harmful volatile substances.
The QZero process, refined by Quarella, minimizes this risk by reducing emissions of volatile organic compounds (V.O.C.) to less than one hundredth, thanks to the use of a special binder and a curing procedure that takes place in a dedicated storage area.
Thanks to QZero, Quarella reduces the environmental impact of publicly available products and the phases of production, processing and logistics of products.
QZero: from greater capacity for innovation to greater attention to the environment and health.