Silestone | Integrity sinks by Silestone
Silestone | Quartz surfaces
About Silestone
The ultimate brand for kitchen countertops and bathrooms
Cosentino creates brands leading the world markets for kitchen and bathroom surfaces. Among these leading brands stands out the quartz bacteriostatic countertop Silestone, which is part of the exclusive Forum for prestigious brands of Spain, consisting of only 75 Spanish brands.
In 1990, Silestone was born, a product that contains the best of natural stone and, moreover, refinement. Indisputable evolution, achieving a fast prestigious position among professionals and end users. Its success has been so great that it has become a unique category for the brand: Bacteriostatic quartz countertop.
Silestone | The new Suede series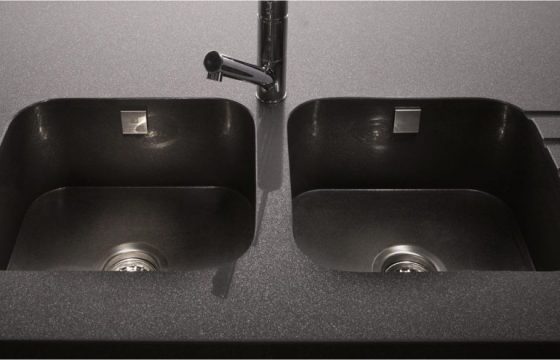 Silestone | Integrity sinks by Silestone
Silestone by Cosentino is a unique brand. Because of its qualities and characteristics and because, the one who owns Silestone becomes unique. Its exclusivity has allowed the brand to establish connections with the world of design and fashion trends, and with the highest class of innovation and modernist style.
Starting with its undeniable material value, supported by professionals such as decorators, designers or architects, Silestone has established itself as a world-renowned brand, with a presence in over 50 countries, a leader in its sector and an indicator in research and innovation in public and private construction of XXI century.
Silestone are natural quartz surfaces designed and treated to decorate modern kitchens and bathrooms, offering a wide range of colors, amazing finishes, and superior quality. Our surfaces are the only ones with antibacterial protection for countertops, which guarantee the maximum level of surface hygiene.

Silestone is a compound made up of 90% natural quartz, which make it extraordinarily hard and resilient. It is an excellent surface for kitchen worktops, bathrooms, floors and wall cladding using the minimum number of joints.

There is a wide variety of colors of the quartz Silestone, which opens up opportunities for many decorative applications from a simple kitchen countertop to a complete furniture project. Silestone is an investment for the future. Silestone is eternal.
Silestone has international certification for maximum safety and security. These certificates give consumers the assurance that Silestone materials are safe and of the best quality. Our certificates offer a 100% guarantee.
Greenguard certificate
This certificate proves that Silestone does not generate environmentally harmful substances. It also guarantees the trouble-free indoors use of our surfaces.
Silestone also has a Greenguard Children & Schools certificate, which confirms the maximum safety of the materials in their application for schools and universities.
NSF certificate
Thanks to this certificate, Silestone has been declared a safe material in direct contact with any food.
Such a highly valued certificate is recognized by prestigious organizations such as the FDA (American Food and Drug Administration) and the WHO (World Health Organization).
LGA certificate
LGA QUALITEST GmbH is an independent organization that certifies the safety, good condition and quality of everyday products, according to European and international requirements. Cosentino received the Hygiene Tested certificate from LGA for its Silestone countertops.
This certificate is awarded only to products which pay particular attention to hygiene during manufacture and which meet all microbiological standards.
ISO 14001 certificate
This is Cosentino's certificate for environmental management systems. This standard certifies the excellent performance and continuous improvement of Cosentino's production processes regarding its impact on the environment.
Some of the main highlights are the efficient use of raw materials, control of emissions into the atmosphere, waste management programs, industrial water treatment and reuse systems, chemicals release, and environmental risk control.
Integrity sinks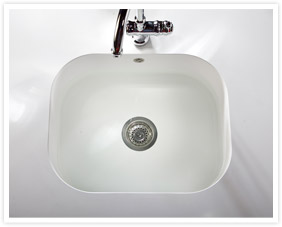 Integrity is Silestone®'s brand of sinks. Specially designed for those who want the best in the kitchen, combining all the advantages of Silestone® into one revolutionary new product that completes the cycle of perfection that your kitchen needs when harmonizing the elements in it.
This is a new line of monoblock sinks. Optimal design with all the advantages of Silestone, matching perfectly with your countertop.
The Silestone® sink is made of the same material as the countertops, and has the same properties (low porosity, durability, strength, safety, hygiene). Pictured – Silestone One. The design is optimized with all the benefits you would expect from Silestone®, such as the highest level of hygiene, high scratch resistance, beauty and strength. The result is homogeneity that has not been seen on kitchen countertops so far. Pictured – Silestone One.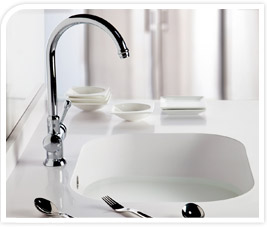 The new Integrity sink is the first one made from a single piece of Silestone, with no weak spots or joints. The sink blends perfectly with the countertop and has all the positive qualities of Silestone, including hygienic properties and high resistance to scratches, stains and temperature.
Integrity is available in two models:
Model "One" , 41 x 51 x 15.5 cm;
Customers will have a choice between 21 popular colors: Stellar Negro, Negro Tebas, Gray Amazon, Gedatsu, Marron Jupiter, Gris Expo, Aluminio Nube, Tigris Sand, Yellow Nile, Kensho, Yukon, Blanco Capri, Haiku, Blanco Norte, Blanco Rivers, Tao, Unsui, Magenta Energy, Verde Fun, Rojo Vital and Blanco Zeus Extreme.
Model "Due":

37 x 34 cm., radius 65
51 x 37 cm., radius 65
Model Due allows for a double sink. There are two new colors available only for the Due model – Nebula and Galactic.