LG Hausys® | Kitchens
LG Hausys® | Bathrooms
LG Hausys® | Furniture
LG Hausys® | Hotels
LG Hausys® | Restaurants
LG Hausys® | Health
LG Hausys® | Education
LG Hausys® | Interior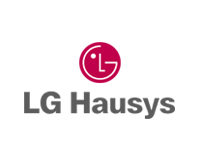 About Hausys®
Ever since our first steps in 1947 at LG, we have always strived to be first. We work with customers to create better living spaces, putting customer needs ahead of LG's. We will continue in the same spirit.
After being separated again from LG Chem's industrial materials division, LG Hausys made a second successful start and is today Korea's largest construction and decorative materials company. Starting with the production of vinyl sheets in 1958, the company has contributed to the enrichment of people's lives for over 60 years, delivering excellent products and services, including Hi-Sash (the first Korean plastic windows), High Gloss sheets (which have the largest worldwide market share), HI-MACS® (acrylic hard surface), Viatera® (quartz technical stone) and integrated photovoltaics (BIPV).
Using the most advanced technology in the industry, LG Hausys designs beautiful functional spaces with environmentally friendly and practical products that make up the largest market share in its field. Also, with its active strategy to expand its local presence, LG Hausys is growing as a global company with outstanding achievements in many regions of the world, including the United States, Canada, Western Europe, China and Russia. And in the future, LG Hausys will continue to study emerging new trends in the field of housing and space to remain one of Korea's top leaders in terms of environmental growth. LG is ready to jump into the future to last at least another 100 years.
Hausys® | Обработка на ръбове
Hausys® | Обработка на ръбове
Hausys® | Кантова обработка
Hausys® | Кантова обработка
For places where surfaces need to be joined with edges, Hausys® offers a wide range of solutions. You can choose between a simple rounded corner or combined multi-row rotating edges including several tones, which bring the feeling of a special finishing element to the hard surface of your countertop. For more information on our edge design solutions, you can contact your local distributor or manufacturer.
LG Hausys is the only manufacturer in the United States with two separate factories – one for solid surfaces and one for quartz
The product
Hausys® is made of 93% natural quartz, a waterproof crystalline mineral that is particularly resistant to absorption. When combined with polyester resins, natural quartz forms a non-porous material and is extremely stain resistant. Unlike other products, Hausys® does not need a sealant to ensure its tightness.
Quality guarantee
It consists of 93% natural quartz, one of the hardest minerals on earth. Extremely durable and easy to maintain as compared to any other natural stone, Hausys® is designed to ensure its brilliant appearance over the years.
Hausys® is a beautiful and non-porous material, more hygienic and stain resistant than other materials used for kitchen and laboratory countertops. In addition, unlike granite, Hausys® Quartz does not need sealants (impregnators and stone seals) to maintain its surface. Therefore, it is approved for use in catering establishments, hospitals, schools, shelters and other organizations for which long-term durability, hygiene and flexible design are leading requirements.
Hausys® provides the only 15-year transferable warranty for the sector.
Why quartz, exactly?
It is one of the hardest minerals on earth, surpassed only by precious stones such as topaz, sapphire and diamond. Our colors are inspired by the raw beauty of remarkable regions around the world, offering a color palette from soft and invigorating tones to passionate and saturated shades. The transparency of natural quartz gives a beauty that cannot be achieved by other production methods or techniques.
In the production of Hausys®, we combine nature with modern technologies to create unsurpassed material such as surfaces and designs for kitchen countertops, bathrooms, flooring and more. Hausys® includes different types of natural quartz mined around the world, which contributes to the difference in shades and particle concentrations, which makes each countertop unique in itself, as well as natural stone surfaces. All this is part of the authentic look of Hausys®.
Care and maintenance
The composition of Hausys® makes your countertop easy to maintain and resistant to scratches and stains. In addition, Hausys® is heat-resistant and is therefore suitable for prolonged exposure to normal cooking temperatures. Hausys® will retain its beauty and durability so you can enjoy it for many years without virtually any maintenance required.